ROTARY CUTTER, 72"
Model OR72RC-1
Available at limited Tractor Supply Co stores in North Dakota, South Dakota, Michigan, Minnesota, Wisconsin
Find A Store
Power through tall grass, overgrown weeds, shrubs and brush (up to 1" dia.) along roadsides with this 72" rotary cutter.
Heavy-duty stump jumper ramp lifts blades up and over rocks and roots, preventing blade damage
Smooth, sloped decks reduce debris and water build-up for care-free maintenance
High-strength steel construction
Corrosion-resistant powder coat finish
Built for tractors with 20-50 HP
3-point category 1 connection or category 1 quick hitch compatible
Made in the U.S.A. with U.S. and imported parts
3-Year Gearbox Warranty; 1-Year Cutter Warranty
Other notes: Cutting width (72") should be as wide or wider than the width of your tractor tires (measure outside tire to tire).
Product Manual
| | |
| --- | --- |
| | Heavy duty tailwheel arm |
| | Smooth, sloped decks |
| | Front and rear shielding |
| | Slip clutch drive |
| | Stump jumper ramp |
| | Protected gearbox shaft |
| | High-strength steel construction |
| | Corrosion-resistant powder coat finish |
| | 3-point category 1 connection |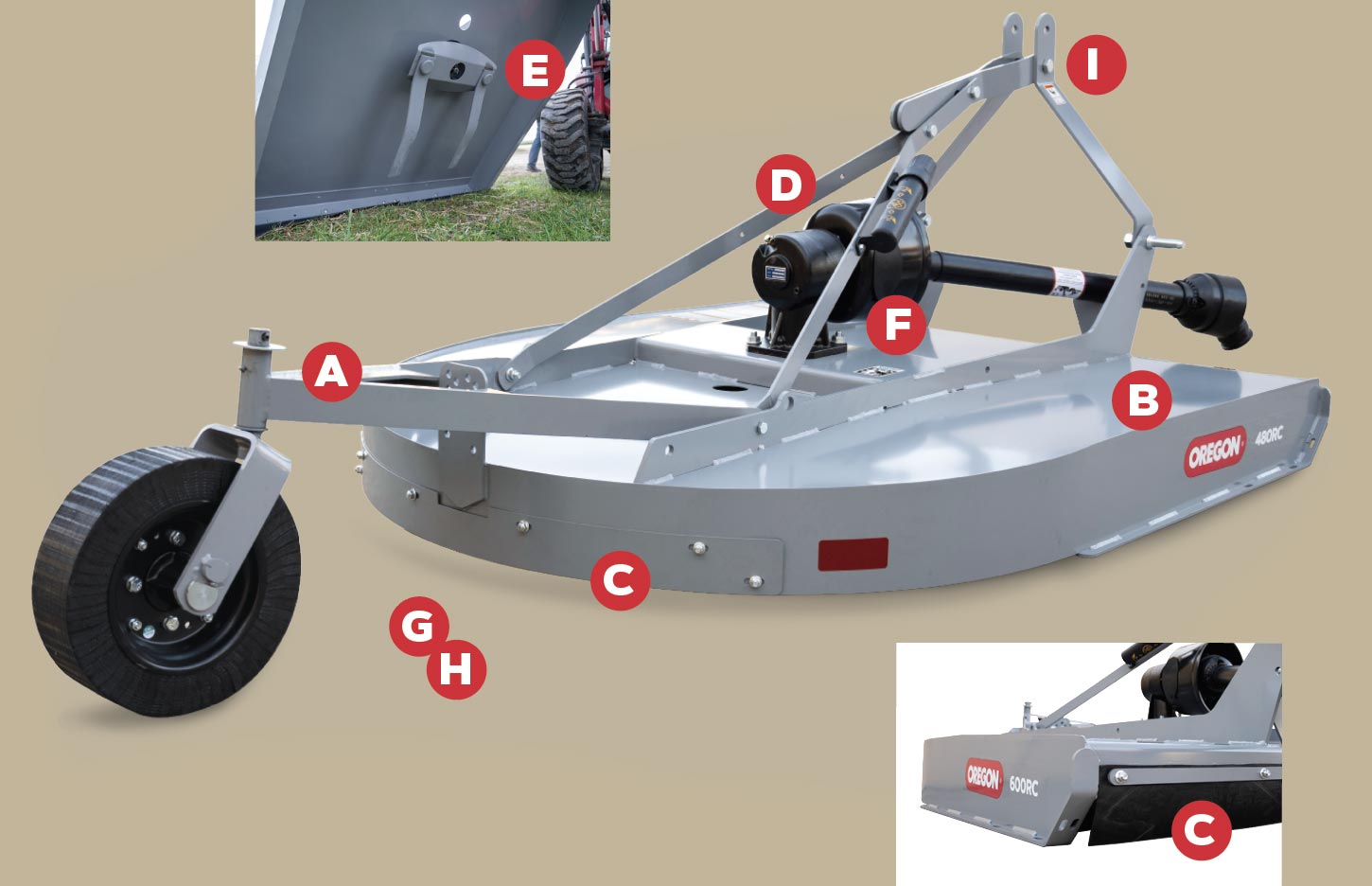 Frequently asked questions
Q: How do I determine the right Rotary Cutter for my needs?
A: Match your tractor's 3-point category, the PTO (power takeoff) horsepower, and the width of the tractor's tires to the Cutter with the same specs. Working width should be as wide or wider than the width of your tractor tires (measure outside tire to tire).

Q: Do my gearboxes come from the factory filled with oil?
A: No. Be sure to pick up SAE-80W-90 oil before leaving the store.

Q: What assembly is required?
A: The Rotary Cutter is shipped partially assembled to the retailer and will be fully assembled by the retailer. The owner should receive the Rotary Cutter completely assembled, lubricated, and adjusted for normal cutting conditions.

Q: At what height should I be cutting my grass/brush?
A: Run cutter 1/2" lower in the front than the back. Set the cut height high enough to avoid scalping the ground as this can damage drive components.
Q: How do I adjust my cut height?
A: Level cutter from side to side. Adjust, using tractor's 3-point arm leveling device: To raise rear of cutter, move tailwheel arm down; to raise front of cutter, raise tractor 3-point arms. Adjust top link to provide 1-2" of clearance between break link and rear lift arms. See operator's manual for complete instructions.

Q: What maintenance is required on my Rotary Cutter?
A: Some service and maintenance work must be done by a qualified dealership; special skills, tools, and safety procedures may be required. Consult your operator's manual for details.

Q: Why do I have to adjust my driveline length?
A: If the distance is too large, the driveline will be too short for proper engagement. If the distance is too small, the driveline may bottom out in operation and damage the cutter or tractor.